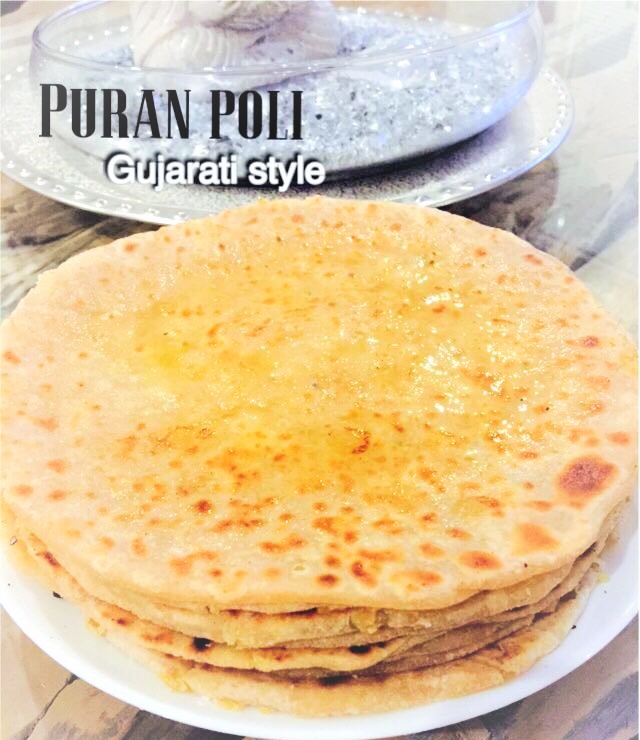 Puran Poli : (10-11 pieces)




Ingredients:
For stuffing: Boiled Toor dal (Pigeon peas) – 1½ cup, Sugar- 5-6 tbsp., Cardamom powder-½tsp, Ghee- 2tsp
For Roti Aata( Dough) take: Whole Wheat Flour- 2 cups, Oil-1tbsp, water
Method:
1) Heat 2tsp Ghee on medium flame, add boiled toor dal and mix well, and Cook for about 10 mins –
2) Add sugar to the mixture and cook until all the water evaporates.
3) Add cardamom powder and mix it. Let the mixture cool down completely.
4) Make golf size balls out of it.
5) TO make the Roti Dough: take 2 cups Whole wheat flour, add oil and water into it.
Knead the soft dough and add some water if needed. Grease the dough with some oil and make It smooth.
6) Sprinkle some wheat flour on flat surface, take some dough –roll it and make it flat.
Place the daal mixture in the middle and cover it (seal it), remove extra dough.
7) Roll it round shape and make it flat.
8) Place it on heated pan, flip it after some time and roast.
9) Apply ghee on both sides and cook until it gets golden.
10) Apply some extra ghee while serving.
for more click youtube video below: